Creating Your Unique Tapestree Family Tree Is Fun & Easy
Discover
Preserve
& Share
​
Your Family's History On A Tapestree Family Tree
---
A Tapestree to fit every family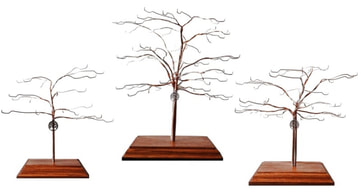 Our Tapestrees are available in 3 sizes so there is a Tapestree Family Tree to fit every size family.

Tapestree are available with either 19, 38 or 57 branches and come complete with enough photo frame charms to fill each branch and free access to our digital photo resizing tool.

Creating your family's Tapestree Family Tree is fun and easy.


Handcrafted in O'Fallon, Mo, Tapestree's are made from copper and are designed to allow each branch to safely and securely hold photo frame charms, small ornaments and other keepsakes.

From our photo frame charms used to create a unique family tree, to large hole Pandora style beads, crystals, jewelry, and other miniature collectibles, Tapestrees can be used to capture and showcase special memories throughout the years. .



Tapestree Family Trees Make Unique Gifts For:
Anniversaries
Birthdays
Weddings
Beautiful Memorials For Loved Ones

---